Clear the Coast 2021
As our marine debris program prepares for its eighth consecutive year mounting major expeditions to some of B.C.'s remotest coastlines, one of our fondest wishes may be granted. The provincial government has stepped up with a multi-million dollar fund to support communities hard-hit by COVID to engage in marine debris removal projects. Of course, it's a competitive grant process, so we don't yet know if our dream to clear the whole of the North Island will come true; but at least we're in the running.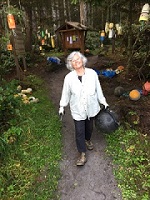 Eight years ago, when work in response to Tohoku's devastating 2011 tsunami was just getting underway, Living Oceans co-founded the Vancouver Island Marine Debris Working Group to co-ordinate cleanup plans and share best practices and information. Today, that group has grown so large we had to rename it the BC Marine Debris Working Group; and we're proud to be contributing members in a large community of committed non-profits, companies and individuals with expertise in remote cleanups and responsible disposal. Needless to say, the group has been an invaluable asset in organizing the collective response to the government's offering of grant funds.
Stay tuned to our social media…if this grant succeeds, we'll be looking for more hands on deck to undertake the most ambitious single-year cleanup we've ever done!
Initiatives: