Red rating challenges farmed salmon certificates
In case you missed it, in December, B.C. farmed salmon was red-listed by U.S. seafood sustainability rating program, Seafood Watch (SFW). The downgrade confirms seafood shoppers should avoid buying B.C. open net-pen farmed salmon due to the industry's devastating impacts to wild salmon (though if you're reading this newsletter, you likely do already!).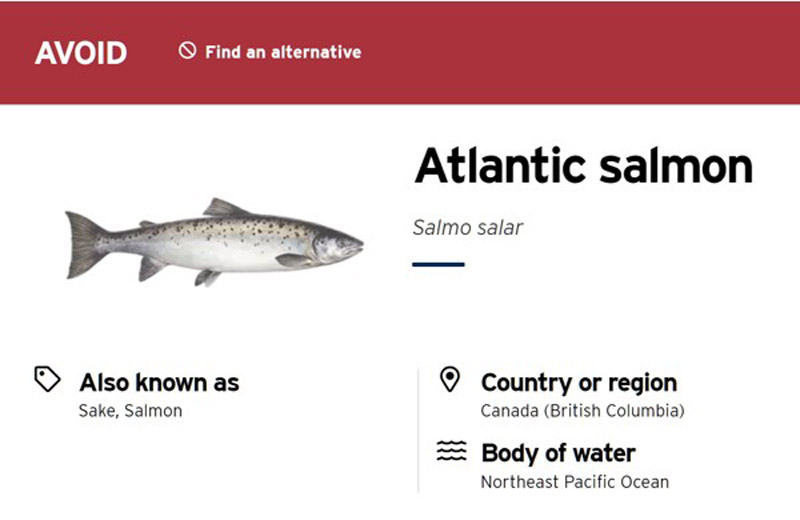 Given the rise of seafood sustainability policies in the marketplace over the last decade, the red rating sends a strong signal to North American supermarkets, restaurants and food service providers to remove B.C. farmed salmon from their fresh cases and menus. This should be particularly the case in the US, where the majority of B.C. farmed salmon is sold and where Seafood Watch ratings are prominently used by businesses and consumers.
But here's the kicker. Salmon farmers have a get out of jail free card that enables them to keep selling their product to the market as "sustainable" and "responsible": certification.
Concerningly, most supermarket and seafood brands rely on certification as part of their sustainable seafood policies. For example, Costco accepts farmed salmon that is Aquaculture Stewardship Council (ASC) certified, while Walmart accepts the Best Aquaculture Practices (BAP) certification.
The problem? All active B.C. grow-out farms are ASC and BAP certified. These are the very same farms that produced the red rating.
Certifications and their associated labels make open net-pen farmed salmon appear sustainable. In actuality, these certifications are failing to protect wild salmon from disease and sea lice due to their loopholes and many "business as usual" criteria for farm certification.
Case in point: that SFW used data from ASC and BAP certified B.C. salmon farms to come to its red rating due to uncontrolled sea lice outbreaks is evidence of the fact that these certifications are not protecting wild salmon. ASC farms in B.C. have had sea lice counts as high as 149 times the level ASC prescribes in its Standard. The farms were simply exempted from complying with this aspect of the Standard.
Yet even SFW, which assigned the red rating, recommends ASC-certified salmon as a "buy" option (but does not recommend BAP-certified salmon). This contradiction was quickly seized on by ASC who eagerly told seafood buyers to ignore SFW's red-rating and follow SFW's "buy ASC" endorsement instead.
In the past, SFW's endorsement of ASC salmon was based on an out-of-date and inaccurate equivalency assessment that compared the ASC's written criteria with their own. Today, SFW has confirmed that they no longer perform these assessments. Leaving the questions: how can SFW credibly continue to endorse ASC salmon, when it doesn't even have a current assessment of the ASC Standard? And when their own assessment of the very same farms came up red? These are questions to which we are actively seeking answers and remedies.
Another related and significant development occurred in December – the Minister of Fisheries' mandate letter re-committed the government to transitioning the open net-pen industry by 2025.
This commitment has the potential to ensure the industry is actually observing "best practice" and its product is "responsibly farmed" – and not just certified with the claim to be so. The red rating of B.C. farmed salmon as "avoid" due to its impacts on wild salmon reinforces the need to transition the industry from coastal waters to land-based recirculating closed systems. Such farming systems have earned a SFW green, or "best choice" rating.
In the meantime, Living Oceans and our SeaChoice allies will continue to watchdog certifications and call out the greenwashing of this red-rated industry.
Initiatives: