Clear the Coast 2020
We innovate a bit every year, to try to protect more sensitive foreshore with fewer resources; but 2020 required a total re-think of how we do our work. Our sincere thanks to BC Parks, who supported us in developing a COVID-19 protocol that would let us continue to recover habitat polluted by ocean plastics.
We knew from the start that long boat rides with multiple volunteers on board would just not work, so Karen's sailboat Viajador remained at home while we set up a base camp near Port Hardy. Volunteers travelled to base camp in their own 'bubbles' for orientation and training, in three separate crews whose arrivals and departures were staggered to ensure physical distancing.
Our first crew went out to new territory for our cleanups: God's Pocket Marine Park, just a short distance from Port Hardy. Hurst Island within the Park was littered with styrofoam from docks and floats.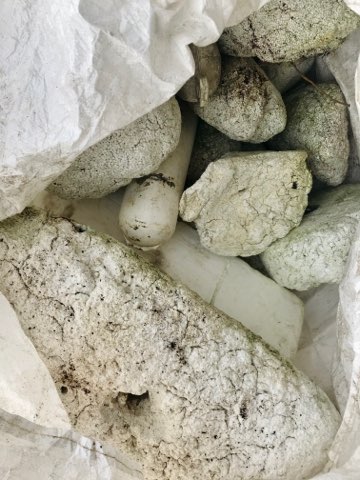 The second crew landed at Nissen Bight on the Cape Scott Trail, travelling with Cape Scott Water Taxi. They made camp at Fishermens' Bay and from there, cleaned the beaches at Nissen and Nels Bights. Nissen proved to be the most heavily impacted--the crew filled 9 lift bags and strung some 20 strings of buoys for heli-lifting. It was hard going, hiking over to Nels, as the trail was churned into knee-deep mud by the hundreds of visitors who hiked the Cape Scott Trail this year.
This hawser found at Nissen was probably lost from a tugboat. It was so heavy that it took the entire team to carry it to the debris cache. To reduce the weight, they laid it out in the sun to dry and shed some of the sand.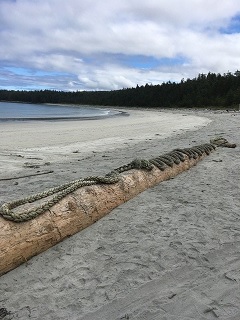 …and when the work was done…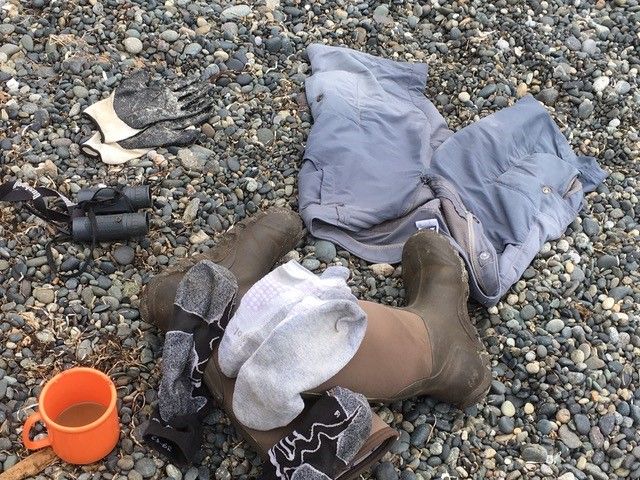 Nels Bight is a beautiful, long, sandy beach completely exposed to the open Pacific. For years, hikers have been hanging buoys that wash ashore in the trees at the trailheads. While a few of these hanging buoys might constitute 'art', several hundred of them begin to pose risks as they, and the polypropylene ropes they're hanging on, begin to disintegrate. Cape Scott Park is a wilderness park and the ethic is 'leave no trace' camping so, after some discussion with the Park rangers, we decided to remove the hanging buoys.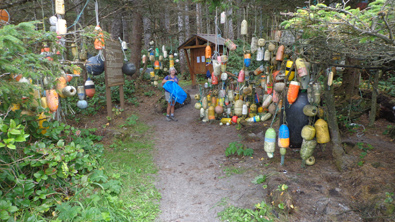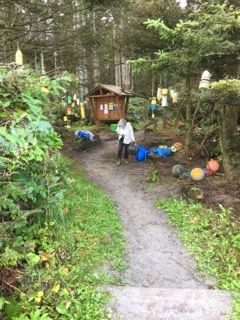 Our third crew went out to Cape Sutil on the water taxi, toward the end of August. They encountered challenging conditions from the get-go: landing on a steep and rocky shore, muddy trails and cold, wet weather. In true Clear the Coast fashion, they didn't let it stop them!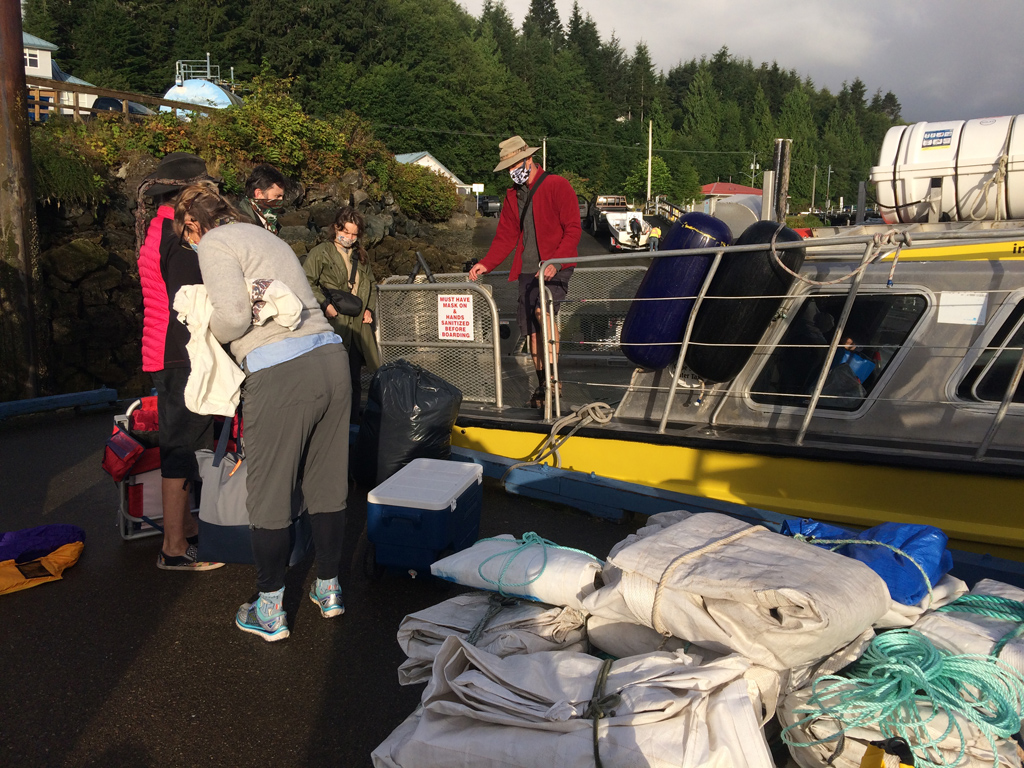 All told, our recovery this year was just under 3 tonnes. In terms of volume, that was about 30 cubic meters, helicoptered off the beaches to the San Josef Bay parking lot and trucked from there to the 7-Mile Landfill in Port McNeill.
Thanks!
Our work this year was made possible, as always, by the volunteer efforts and generous donations of our Living Oceans supporters. Grants from BC Parks and Boating BC helped with the hard costs as well. The Canadian Wildlife Service provided helicopter support; and BC Parks lent a hand sorting and securing the debris for trucking. The Regional District of Mount Waddington waived the fees otherwise charged at the landfill. The Port McNeill IGA eased our food budget with a $100 gift card. Service providers on the North Island all went the extra mile for us: thanks to West Coast Helicopters, Cape Scott Water Taxi and the Backpackers' Hostel. Skipper/trucker/gedderdun guy Dan Carter and his crew deserve special thanks for looking after us and our debris! Our most sincere thanks to all of you for making another season of habitat restoration possible!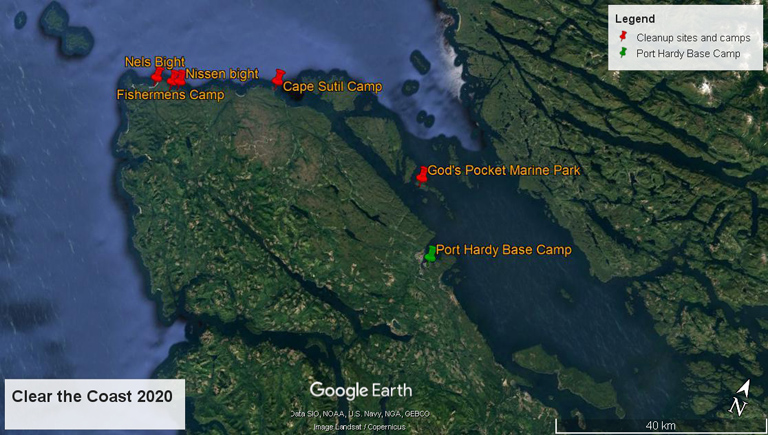 Initiatives: